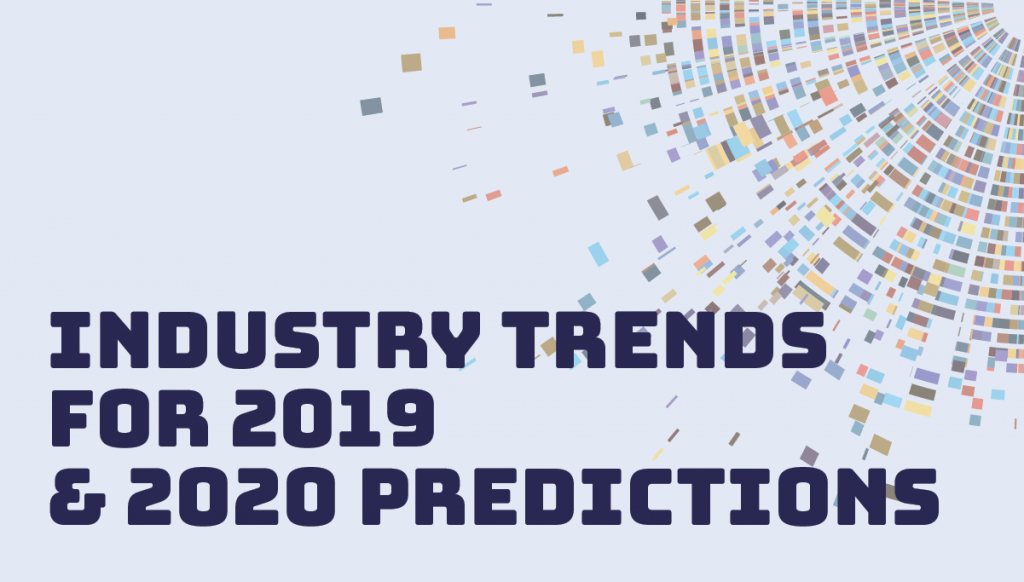 Posted on
October 3, 2019
The digital world moves fast, ya'll! Even with the rise of all things digital, traditional advertising isn't necessarily being run out of business, however, digital platforms are definitely giving traditional tactics a run for their money. It's important to drive home that businesses of all sizes should keep up with trends and spending patterns — you'll stay visible against your competitors and in front of your customers.
Advertising trends continue to be impacted by the changing technological scene. This includes anything and everything to make the customer experience more personal and accessible. Digital advertising now hits home closer than TV or radio ever could; we tend to carry our phones with us at all times, sometimes even laptops. Plus, let's not forget younger generations who spend most of their time on their phones or computers in the evening, all the while TVs stay muffled in the background. Younger generations, specifically Millennials and Gen Z, move further from traditional reach by the minute.
Now, digital and programmatic advertising lets marketers target a specific audience (instantly!) using algorithms and automatic processing, making internet advertising not just cheap, but efficient.
U.S. Ad Spending Forecast
From Zenith, 2019 forecast for total U.S. spending on major media.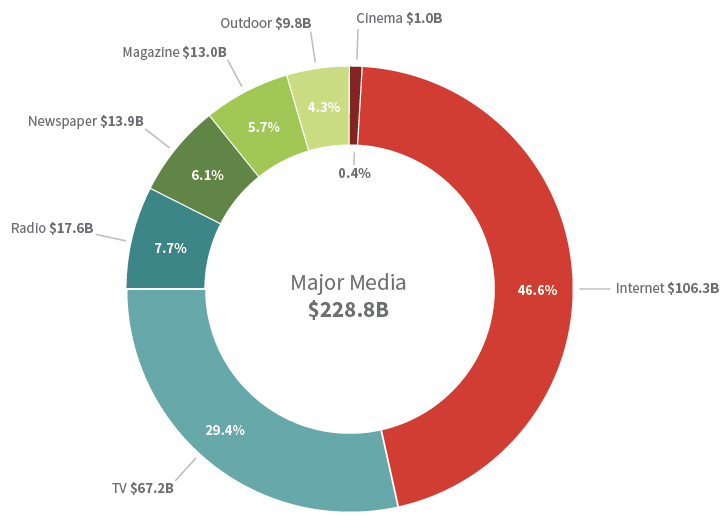 Just as in 2018, Zenith forecasts that in 2019 advertising agencies will have spent the most money on internet advertising and the least on cinema advertising. With little change in radio, outdoor, and cinema spending, the biggest decline in spending falls on newspaper and magazine platforms, demonstrating that going paperless is indeed the wave of the future.
From Zenith, 2019 & 2020 forecast for total U.S. spending on major media & marketing services compared to 2018.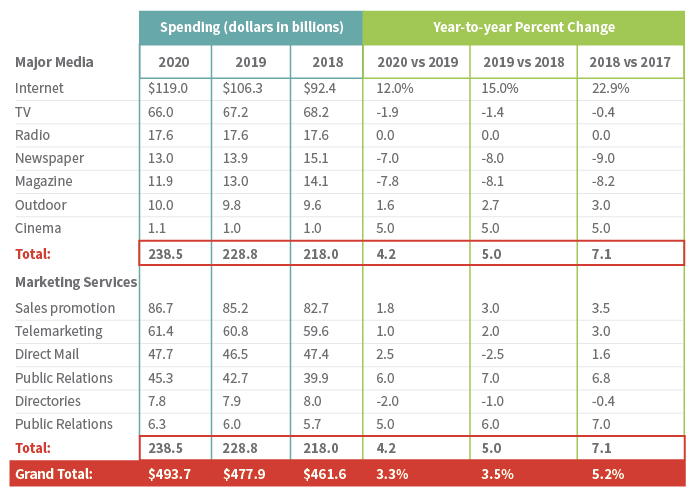 Regardless what the dominant medium may be, the trends in advertising and media spending indicate an increase in total spend from 2018 to 2020. Even spend on Marketing Services doesn't show any signs of slowing over the next year, according to Zenith's projections.
Share of U.S. Ad Spending by Medium
From Zenith. The media agency experts expect internet spend to account for more than half (53.3 percent) of U.S. media ad spend in 2021.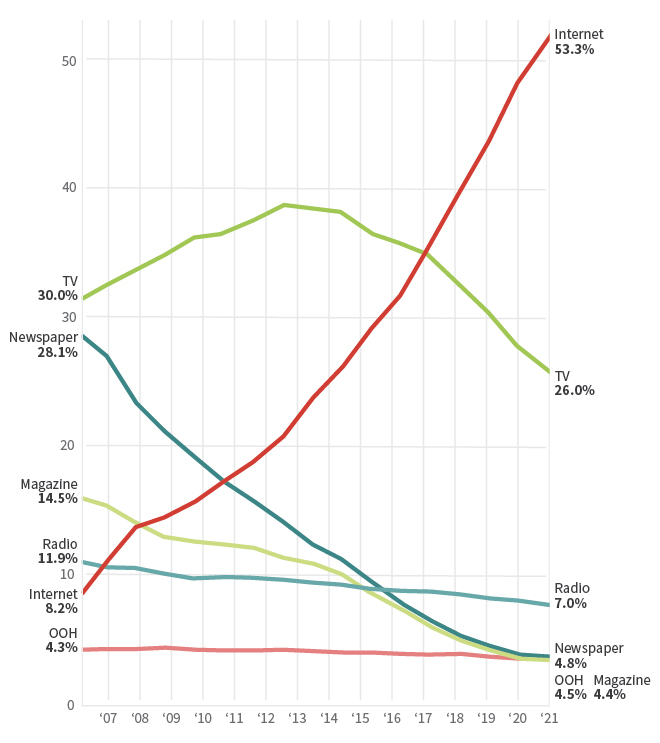 With the steady rise in internet use, there's the question of whether or not anything will come close to matching the spend of the accessible and constant medium. TV is projected to slowly follow suit behind radio and newspaper, especially amidst the streaming service boom, and out-of-home continues to be the perfect supplement to a much more pertinent and widespread medium.
Over the past year, marketers are becoming increasingly interested in another medium. Experiential marketing is on the horizon now as a new form of OOH advertising, one that is able to connect a brand to the personal interests of each person without manipulating someone's personal data. Ever since it became apparent that big companies have been taking advantage of consumers' personal data, it is necessary to take cautious steps when targeting consumers online. Following the experiential trend could prove to be potentially rewarding.
At any rate, these findings indicate that advertisers continue to reach consumers where they are, all the while conveying their story.